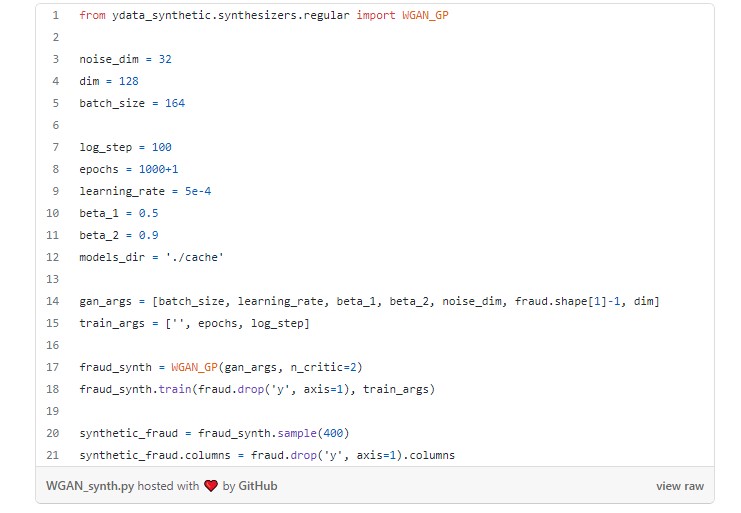 Through the combination of the new synthetic frauds with the real data, you can easily improve the quality and the subsequent accuracy of your classifier. In this example, we achieved good results using a simple WGAN with Gradient Penalty, but there are many parameters to tune and other concerns to be worried about, such as the data dimensionality, the scale of production datasets and the list goes on. That's what YData's platform delivers, a way to leverage the latest deep generative data synthesization at scale and optimal for different uses.
But the data science lifecycle does not end with the model training and testing. After achieving results that match the business expectations, we need to ship the model to a stable production serving environment and start delivering real value for the end-user.
How to do so without mastering concepts such as containers, Kubernetes, and API development? Happily for us, data scientists, with the rise of MLOps tools such as UbiOps, data scientists are now in control of the full process of not only model development but also delivery and maintenance.
You can reproduce and test this fraud use case easily — YData together with UbiOps has created a notebook and made it available on GitHub. In this notebook you will learn how to 1) create and benefit from synthetic data to mitigate issues related to imbalanced datasets to train and 2) deliver a better model to a production serving environment.
Conclusion
The lifecycle of ML solutions is very complex and hard to ensure not only due to the shortage of data scientists and engineers but also because of the (often) existing technical debt. The impact of data quality on the model's results is notorious while the challenges to achieve the best and optimal training dataset are already quite big. This makes the preprocessing step one of the most important steps to ensure reliability and standardization.
Nevertheless, data and models only have the expected impact on businesses if models are served into production. MLOps is the key answer to ensure timely, robust, and scalable delivery of models into production.
YData and UbiOps are seamlessly integrated, enabling data science teams to easily improve their existing data and deliver models in a safe and stable production environment.